By Joseph O. Eaton and an unknown etcher (
Library of Congress
) [CC BY-SA 3.0 (Public domain)], via Wikimedia Commons
A consulter en ligne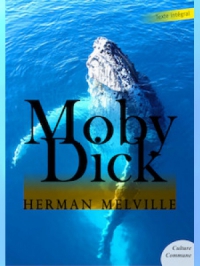 Moby Dick
Herman Melville
356 pages. Moby Dick Herman Melville Texte intégral. Cet ouvrage a fait l'objet d'un véritable travail en vue d'une édition numérique. Un travail typographique le rend facile et agréable à lire. Attiré par la mer et le large, Ismaël, le narrateur, décide de partir à la chasse à la baleine. Il embarque sur le Pequod, baleinier commandé par le capitaine Achab. Ce dernier recherche Moby Dick, un cachalot blanc d'une taille impressionnante et particulièrement féroce, qui lui a arraché une jambe par le passé. Achab emmène son équipage dans un périple autour du monde à la poursuite du cachalot dont il a juré de se venger. Le Pequod finira par sombrer au large des îles Gilbert en laissant Ismaël seul survivant, flottant sur un cercueil. Moby-Dick est aujourd'hui considéré comme l'un des plus importants romans de langue anglaise. En 1954, dans Ten Novels and Their Authors, l'écrivain britannique William Somerset Maugham a classé Moby Dick parmi les dix plus grands romans. Source : Wikipédia Retrouvez l'ensemble de nos collections sur http://www.culturecommune.com/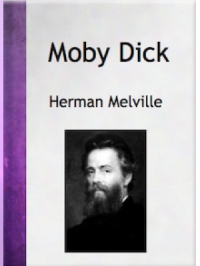 Moby-Dick
Herman Melville
752 pages.Moby-Dick is an 1851 novel by Herman Melville. The story tells the adventures of the wandering sailor Ishmael and his voyage on the whaling ship Pequod, commanded by Captain Ahab. Ishmael soon learns that Ahab seeks one specific whale, Moby-Dick, a white whale of tremendous size and ferocity. Comparatively few whaling ships know of Moby-Dick, and fewer yet have encountered him. In a previous encounter, the whale destroyed Ahab's boat and bit off his leg. Ahab intends to exact revenge.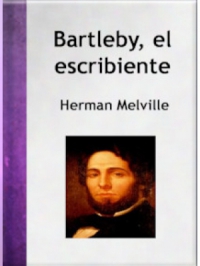 Bartleby, el escribiente
Herman Melville
30 pages.Narra la historia un abogado de nombre desconocido que tiene su oficina en Wall Street, Nueva York, quien, según sus propias palabras, "en la tranquilidad de un cómodo retiro, trabaja cómodamente con los títulos de propiedad de los hombres ricos, con hipotecas y obligaciones". Tiene tres empleados, con los apodos de Turkey ("Pavo"), Nippers ("Tenazas") y Ginger Nut ("Nuez de jengibre"), a los cuales describe en la obra. Turkey y Nippers son copistas, o escribientes, en tanto que Ginger Nut, que tiene sólo doce años, es el chico de los recados. Los dos escribientes no son suficientes para hacer el trabajo de la oficina, por lo cual el narrador pone un anuncio para contratar un nuevo empleado, al reclamo del cual acude Bartleby, quien es de inmediato contratado. Su figura es descrita como "pálidamente pulcra, lamentablemente respetable, incurablemente solitaria"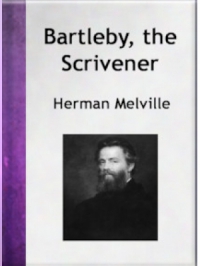 Bartleby, the Scrivener
Herman Melville
33 pages.The narrator, an elderly lawyer who has a very comfortable business helping wealthy men deal with mortgages, title deeds, and bonds, relates the story of the strangest man he has ever known. The narrator already employs two scriveners, Nippers and Turkey. Nippers suffers from chronic indigestion, and Turkey is a drunk, but the office survives because in the mornings Turkey is sober even though Nippers is irritable, and in the afternoon Nippers has calmed down even though Turkey is drunk.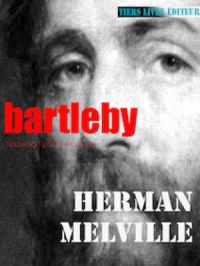 Bartleby
Herman Melville
60 pages.Melville savait-il, écrivant Bartleby, l'immense destin de son copiste ? «Je préférerais ne pas.» Et voici qu'un monde s'écroule. Ou bien : n'est-ce pas notre propre histoire, mais notre histoire tout entière, celle des grandes villes dont Manhattan est l'emblème, celle de l'holocauste et ces silhouettes réduites à l'infini silence, et tous les fouilleurs de littérature qui, comme Franz Kafka, ont ajouté à Bartleby des frères puînés, qui ont donné après coup (pour reprendre le titre de Blanchot) sa vraie dimension à Bartleby ? Mais c'est peut-être juste l'affaire d'un sourire, aussi: ça nous ressemble tellement, tout ça, même à un siècle et demi de distance. Deleuze a commenté Bartleby, Agamben aussi, plein d'autres. C'est l'allégorie de notre condition dans la ville, c'est la question du travail et de la vie qui est posée, et c'est aussi l'annulation de toutes ces questions. Bartleby est sans fond. Non, ce n'est pas du travail ni de la vie qu'ici on parle, mais de Bartleby. Aimer Melville, aimer New York. Craindre Bartleby. FB Nouvelle traduction, avec introduction.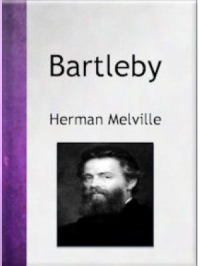 Bartleby
Herman Melville
40 pages.Ein älterer Rechtsanwalt berichtet als Icherzähler von einem seiner Schreiber namens Bartleby, den er eines Tages in sein von Hochhäusern umstelltes lichtloses Büro in der Wall Street aufnimmt. Bartleby beginnt seine Tätigkeit mit stillem Fleiß und einsiedlerischer Ausdauer. Er kopiert unermüdlich Verträge, lehnt aber zur Überraschung seines Dienstherrn schon bald jede andere Tätigkeit mit den Worten ab: "Ich möchte lieber nicht", "I would prefer not to". Bald weigert er sich sogar, Verträge zu kopieren, wohnt aber inzwischen in dem Büro - höflich, freudlos, ohne Freunde und fast ohne zu essen. Der Rechtsanwalt kann oder will ihn nicht gewaltsam aus dem Büro entfernen lassen und auch eine großzügige Abfindung interessiert Bartleby nicht. Wegen eines unerklärlichen Einverständnisses mit Bartleby sieht sich der Rechtsanwalt am Ende gezwungen, selbst aus dem Büro auszuziehen, statt Bartleby vor die Tür zu setzen. Seine Nachmieter - weniger verständnisvoll - lassen Bartleby bald durch die Polizei abführen und in das Gefängnis The Tombs (die Gräber) bringen. Dort verweigert Bartleby sowohl alle Kommunikation und auch alle Nahrung. Der Rechtsanwalt versucht, sich um seinen "Freund" zu kümmern, aber nach wenigen Tagen stirbt Bartleby an seiner Lebensverweigerung.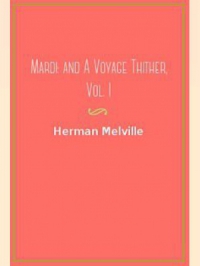 Mardi: and A Voyage Thither, Vol. I
Herman Melville
269 pages."... Regardless of the theory which ascribes to them a nearly uniform course from east to west, induced by the eastwardly winds of the Line, and the collateral action of the Polar streams; these currents are forever shifting Nor can the period of their revolutions be at all relied upon or predicted But however difficult it may be to assign a specific cause for the ocean streams, in any part of the world, one of the wholesome effects thereby produced would seem obvious enough And though the circumstance here alluded to is perhaps known to every body, it may be questioned, whether it is generally invested with the importance it deserves Reference is here made to the constant commingling and purification of the sea-water by reason of the currents For, that the ocean, according to the popular theory, possesses a special purifying agent in its salts, is somewhat to be doubted Nor can it be explicitly denied, that those very salts might corrupt it, were it not for the brisk circulation of its particles consequent upon the flow of the streams It is well known to seamen, that a bucket of sea-water, left standing in a tropical climate, very soon becomes highly offensive; which is not the case with rainwater But I build no theories And by way of obstructing the one, which might possibly be evolved from the statement above, let me add, that the offensiveness of sea-water left standing, may arise in no small degree from the presence of decomposed animal matter..."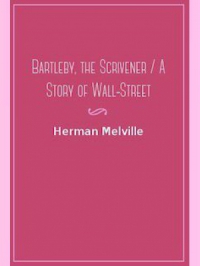 Bartleby, the Scrivener / A Story of Wall-Street
Herman Melville
38 pages."..." Several days passed, and I heard nothing more; and though I often felt a charitable prompting to call at the place and see poor Bartleby, yet a certain squeamishness of I know not what withheld me All is over with him, by this time, thought I at last, when through another week no further intelligence reached me But coming to my room the day after, I found several persons waiting at my door in a high state of nervous excitement "That's the man—here he comes," cried the foremost one, whom I recognized as the lawyer who had previously called upon me alone "You must take him away, sir, at once," cried a portly person among them, advancing upon me, and whom I knew to be the landlord of No—Wall-street "These gentlemen, my tenants, cannot stand it any longer; Mr B—" pointing to the lawyer, "has turned him out of his room, and he now persists in haunting the building generally, sitting upon the banisters of the stairs by day, and sleeping in the entry by night Every body is concerned; clients are leaving the offices; some fears are entertained of a mob; something you must do, and that without delay"..."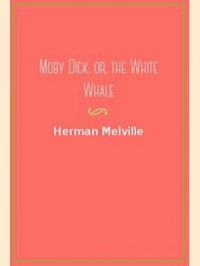 Moby Dick: or, the White Whale
Herman Melville
552 pages."... Spurn the idol Bell, and the hideous dragon; turn from the wrath to come; mind thine eye, I say; oh! goodness gracious! steer clear of the fiery pit!" Something of the salt sea yet lingered in old Bildad's language, heterogeneously mixed with Scriptural and domestic phrases "Peleg! Peleg!" said Bildad, lifting his eyes and hands, "thou thyself, as I myself, hast seen many a perilous time; thou knowest, Peleg, what it is to have the fear of death; how, then, can'st thou prate in this ungodly guise Thou beliest thine own heart, Peleg Tell me, when this same Pequod here had her three masts overboard in that typhoon on Japan, that same voyage when thou went mate with Captain Ahab, did'st thou not think of Death and the Judgment then?" "Hear him, hear him now," cried Peleg, marching across the cabin, and thrusting his hands far down into his pockets,—"hear him, all of ye Think of that! When every moment we thought the ship would sink! Death and the Judgment then? What? With all three masts making such an everlasting thundering against the side; and every sea breaking over us, fore and aft Think of Death and the Judgment then? No! no time to think about Death then Life was what Captain Ahab and I was thinking of; and how to save all hands how to rig jury-masts how to get into the nearest port; that was what I was thinking of" Bildad said no more, but buttoning up his coat, stalked on deck, where we followed him There he stood, very quietly overlooking some sailmakers who were mending a top-sail in the waist Now and then he stooped to pick up a patch, or save an end of tarred twine, which otherwise might have been wasted..."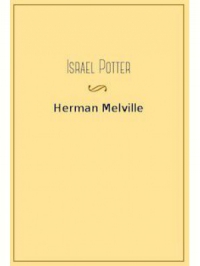 Israel Potter
Herman Melville
184 pages."... Pleasant voyage to ye, my friend," and, leaving Israel a prisoner, the crimp, buttoning his coat, sauntered leisurely out of the inn "I'm no Englishman," roared Israel, in a foam "Oh! that's the old story," grinned his jailers "Come along There's no Englishman in the English fleet All foreigners You may take their own word for it" To be short, in less than a week Israel found himself at Portsmouth, and, ere long, a foretopman in his Majesty's ship of the line, "Unprincipled," scudding before the wind down channel, in company with the "Undaunted," and the "Unconquerable;" all three haughty Dons bound to the East Indian waters as reinforcements to the fleet of Sir Edward Hughs And now, we might shortly have to record our adventurer's part in the famous engagement off the coast of Coromandel, between Admiral Suffrien's fleet and the English squadron, were it not that fate snatched him on the threshold of events, and, turning him short round whither he had come, sent him back congenially to war against England; instead of on her behalf Thus repeatedly and rapidly were the fortunes of our wanderer planted, torn up, transplanted, and dropped again, hither and thither, according as the Supreme Disposer of sailors and soldiers saw fit to appoint..."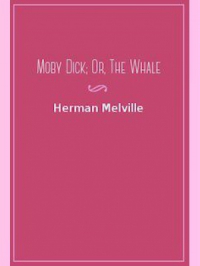 Moby Dick; Or, The Whale
Herman Melville
528 pages."... "Suddenly a mighty mass emerged from the water, and shot up perpendicularly into the air It was the while" —MIRIAM COFFIN OR THE WHALE FISHERMAN "The Whale is harpooned to be sure; but bethink you, how you would manage a powerful unbroken colt, with the mere appliance of a rope tied to the root of his tail" —A CHAPTER ON WHALING IN RIBS AND TRUCKS "On one occasion I saw two of these monsters (whales) probably male and female, slowly swimming, one after the other, within less than a stone's throw of the shore" (Terra Del Fuego), "over which the beech tree extended its branches" —DARWIN'S VOYAGE OF A NATURALIST "'Stern all!' exclaimed the mate, as upon turning his head, he saw the distended jaws of a large Sperm Whale close to the head of the boat, threatening it with instant destruction;—'Stern all, for your lives!'" —WHARTON THE WHALE KILLER "So be cheery, my lads, let your hearts never fail, While the bold harpooneer is striking the whale!" —NANTUCKET SONG ..."
Mardi: and A Voyage Thither, Vol. II
Herman Melville
308 pages."..." "Away! ye fiends" "Again a Venus car; and lo! a wreath of strawberries!—Yet fly to me, and be garlanded with joys" "Let the wild witch laugh She moves me not Neither hurtling arrows nor Circe flowers appall" Said Yoomy, "They wait reply" "Tell your Hautia, that I know her not; nor care to know I defy her incantations; she lures in vain Yillah! Yillah! still I hope!" Slowly they departed; heeding not my cries no more to follow Silence, and darkness fell..."