Documents pour «Cancer»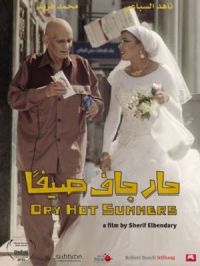 Dry, Hot Summers Har gaf sayfan
De Sherif Elbendary
30min47
Dans l'agitation d'une journée d'été au Caire, deux âmes seules se croisent dans un taxi.

Dans leurs parcours respectifs à travers la ville, Shawky, un vieil homme maladif, et Doaa, une jeune femme pleine de vie, vont retrouver le vrai sens de la vie.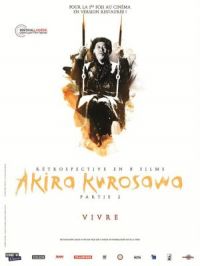 Vivre Ikiru
De Akira Kurosawa
2h23min07
Atteint d'un cancer, Watanabe, chef de service du génie civil, décide de réaliser le projet qu'il avait tout d'abord repoussé, celui d'assainir un terrain vague du quartier de Hureocho pour que les enfants puissent jouer dans un véritable jardin.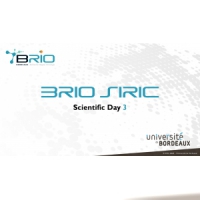 Experts panel discussion: What opportunities and best practices for the use of clinical material in translational research ?
David Cameron
48min01
En point d'orgue du Scientific
BRIO Day, David Cameron, spécialiste reconnu en Oncologie, Professeur  à
l'Université d'Edimbourg, anime un débat sur la question des opportinités et bonnes pratiques pour l'utilisation du matériel clinique en recherche translationnelle.


 

Cette présentation a été donnée dans le cadre du BRIO SIRIC
scientific day 3 organisé annuellement par le SIRIC BRIO et qui a pour but de
réunir tous les acteurs du SIRIC BRIO et plus largement de la cancérologie à
Bordeaux.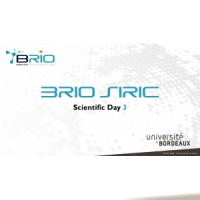 From the OR to clinical database... what for ? The example of UroCCR
Jean-Christophe BERNHARD
14min34
Clinical
and biological samples : opportunities and challenges for translational
research

The UroCCR
database was created to respond to the need on centralization and sharing of
the multiple data, as demographic and medical data, biological samples and experimental
results, produced by the urologists' community.

Such a
web-shared database dedicated to kidney cancer allows the generation of a
medico-scientific research network, the creation of an annotated national biosample collection, the development of
ancillary research projects and of scientific and medical research on kidney
cancer.


Cette présentation a été donnée dans le cadre du BRIO SIRIC
scientific day 3 organisé annuellement par le SIRIC BRIO et qui a pour but de
réunir tous les acteurs du SIRIC BRIO et plus largement de la cancérologie à
Bordeaux.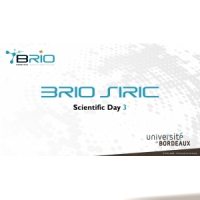 A new weapon against the tobacco industry : class action lawsuit using a novel epidemiologic parameter
Jack SIEMIATYCKI
47min16
Epidemiology
and public health



Lawsuits against the
tobacco industry, if successful, have the potential to compensate victims of
smoking and to diminish the capacity of the tobacco industry to continue to
function with impunity. Up to now, the only successful legal actions against
Big Tobacco have been those brought on behalf of states or provinces to recover
national health care costs associated with tobacco diseases, and those brought
on behalf of individual victims, in which financial damages were sought.

Class action lawsuits
to recover damages on behalf of the huge numbers of victims have not previously
been successful. The problem is that the tobacco industry has successfully
argued that such a lawsuit requires a demonstration of "more likely than not"
causation for each plaintiff. Depending on the jurisdiction, there may be many
thousands or millions of incident cases annually, and it is impossible to bring
them all into court individually to determine whether smoking was "more likely
than not" a contributing cause of each case.

Fifteen years ago,
class action suit was launched in Quebec on behalf of all lung cancer patients
whose disease was caused by cigarette smoking. The plaintiffs' lawyers asked me
to estimate how many cases of cancer were caused by smoking. This sounds like
the classic attributable fraction in epidemiology. But upon refinement, the
question became one that has not previously been addressed in epidemiology:
What proportion of lung cancer cases in Quebec, if they hypothetically could be
individually evaluated, would satisfy the "more likely than not" criterion?

The novel methodology
I developed is based on two stages. First I estimated the dose-response
relationship between smoking and lung cancer, for which I use the pack-years as
a measure of smoking. I define the amount of smoking that is required to induce
a two-fold risk as the "critical amount" that makes it more likely than not
that smoking contributed to the cancer. Depending on the model used and
considering statistical variability, I estimated that the critical amount
required to double the risk was somewhere between 5 and 12 pack-years of
smoking.

Then I had to
estimate what fraction of Quebec lung cancer patients had smoked more than the
critical amount. I estimated this to be over 90%.

The Quebec trial, at
which I testified and was cross-examined at length and criticized by a parade
of defense witnesses, ended in 2014. The judge has made his judgement. He
supported the plaintiffs. I will describe some aspects of the trial.


Cette présentation a été donnée dans le cadre du BRIO SIRIC
scientific day 3 organisé annuellement par le SIRIC BRIO et qui a pour but de
réunir tous les acteurs du SIRIC BRIO et plus largement de la cancérologie à
Bordeaux.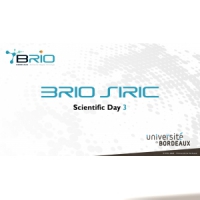 Flash talk - Call for proposal FAC 2014
Frédéric ELUSTONDO
1h02min57
Personalized breast cancer therapy based on viral functional assays to
score pathway activity
Harald
Wodrich, University of Bordeaux

State-of-the-art mass sequencing
technology has paved the road to identify the genetic make-up of tumors on a
patient-by-patient basis, allowing targeted and personalized treatment. While
this worked in specific cases it remains difficult to translate genetic changes
into causative cancer pathway alterations. For example, in luminal A breast tumours PIK3CA mutations that activate
the kinase do not correlate with phosphorylation of downstream targets or
response to PI3K inhibitors. An alternative/complementing approach is to
directly test pathway integrity in primary tumor samples. We propose to use
adenovirus infection of primary breast cancer samples as such a test.
Adenoviruses modulate and depend on several of the pathways frequently mutated
in breast cancer to deliver their genomes into the nucleus. This property is
entirely encoded in the virion and does not require viral gene expression. Hence we
attempt to score pathways by comparing marker gene expression from wildtype virions
with mutant virions developed in our group that are sensitive to defects in the
PI3K/AKT/mTOR/SGK1 pathway and subject to autophagic degradation. Since these events occur so early, they are ideally
placed to form the basis of rapid functional assays for oncogenic pathway
activation.


Activation of human gamma-delta T cells by cancer metabolism
Benjamin
Faustin, University of Bordeaux

Compelling clinical data from
patients treated with immunomodulatory agents indicate that harnessing the
power of the immune system can improve long-term cancer containment and extend
overall survival. Immunotherapies potentiate or reactivate ongoing, inefficient
antitumor immune responses and break tumor tolerance, which is one of the major
strategies used by cancer cells to escape immune recognition. Human γδ T cells contribute to lymphoid
stress surveillance against tumors by directly recognizing cancer cells through
unknown mechanisms. This year, we have shown that several types of cancer cells
express caspase-1 inflammasomes and release IL-18 to promote T cell
cytotoxicity and IFNγ
production. Moreover, we report that triggering the AMP-activated protein
kinase (AMPK)-dependent metabolic reprogramming of cancer cells induces the
upregulation of a broad immune signature comprised of T-Cell Receptor antigens,
co-stimulatory molecules, adhesion molecule, and the secretion of soluble
molecules. These signals merge to enhance γδ T cell response and potentially others immune
cells. Hence, AMPK activity in cancer cells improves immune detection by tissue
γδ T cells with
implications for cancer immunotherapy. This research is applied to colorectal
and lung cancers (which are sites of γδ T cell homing).




Discoidin domain receptors (DDR) involvement in melanoma progression and
invasion
Frédéric
Saltel, University of Bordeaux

Background:
Cutaneous melanoma is an aggressive cancer that forms from melanocytes. During
melanoma progression, cells will invade the dermis which is rich in type I
collagen. Linear invadosomes are invasive structures induced by fibrillar type
I collagen, able to degrade the matrix. The discoidin domain receptor 1 (DDR1)
was shown to be necessary for linear invadosomes formation and functionality.
DDR1 and DDR2 are overexpressed or mutated in various tumors, mediating cell
proliferation and/or invasion. DDR1 is known to mediate cell migration and
invasion in non-small cell lung carcinoma and DDR2 has been shown to facilitate
breast cancer cells migration and metastasis. However there is no solid
evidence of DDRs involvement in melanoma. As the melanoma cells will be in
contact with type I collagen

fibers during
invasion into the dermis, our hypothesis is that if melanoma express DDRs,
linear invadosomes may be relevant in melanoma progression.

Results: Our
preliminary data obtained on human melanoma tissue samples demonstrate that
DDR1 and DDR2 are co-overexpressed in this cancer. In vitro, a comparison
between primary human melanocytes and a melanoma cell lines shows that DDRs are
overexpressed in A375. Moreover, DDR1 and DDR2 colocalize along collagen
fibers. Furthermore, melanoma cell lines are able to form more linear
invadosomes than primary melanocytes. These results prompted us to study the
involvement of DDR1 and DDR2 in a same cellular model, addressing the
contribution of each member in melanoma progression and linear invadosomes
formation. Using an ex vivo model of reconstructed epidermis, we will study the
impact of overexpression or depletion of DDR1 and/or DDR2 on cell invasion. In
parallel, we want to highlight the existence of linear invadosomes in vivo
using correlative microscopy. Finally, we want to determine DDRs as potential therapeutic
targets to block tumor invasion in melanoma.




Quantitative optical nanoscopy of infrared nano-markers : toward colon cancer tissue microarrays characterization
Laurent
Cognet, University of Bordeaux

The main objective of this project is
the simultaneous development, implementation and tests of a new imaging
modality, Photothermal Imaging (PhI) that can detect single absorbing
nanolabels. Our aim is to supplement IHC and IF in terms of sensitivity, and
reproducibility and transfer this approach to the medical world in order to aid
cancer diagnosis and to guide therapeutic choices.

In this presentation, I will show that the
first tests performed on human cancer samples from the tumor bank of Bergonié
indicate that PhI should be operating with near infrared nano-labels. I will
then present our current efforts to produce and characterize such near infrared
nano-labels. Those are based on extremely small gold nanorods and ultra-short
nanotubes. Future experiments including nanoparticle bio-functionalization and
imaging microarrays of colon tumors will then be discussed.


Ces présentations ont été données dans le cadre du BRIO SIRIC
scientific day 3 organisé annuellement par le SIRIC BRIO et qui a pour but de
réunir tous les acteurs du SIRIC BRIO et plus largement de la cancérologie à
Bordeaux.




 
A combined laser microdissection and mass spectrometry method for proteomic analysis of tissue sections for the indentification of tumor signatures
Anne-Aurélie RAYMOND
20min18
Clinical and biological samples : opportunities and challenges for translational research



A challenge in oncology is to better define the
tumor of the patient to study the pathology and of course to find and to use
the right treatment. Genetic and transcriptomic analyses allow a cancer
classification, and give a lot of informations concerning carcinogenesis.
However, the proteomic analysis can complete the genomic analysis and precise
the tumor features.


With the Frederic Saltel's group within the
INSERM 1053 Unit of Bordeaux, we have already developed a new method of
proteomic analysis of subcellular compartments after laser microdissection that
has been the object of a patent registration. Resulting from a know-how
acquired during the development of this new method, we have developed a
procedure combining laser microdissection and mass spectrometry analysis to
identify and compare the levels of protein expression between two tissues
pieces of formalin fixed paraffin embedded tissue sections. Our approach
presents the principal advantage to be compatible with biopsy, the current
biological material available for clinical assays. Moreover, with this approach
we will obtain quantitative data in comparison with classical
immunohistochemistry.

Our subject of study in the laboratory is the
hepatocellular carcinoma (HCC), the sixth most prevalent cancer and the third
most frequent cause of cancer-related death. We already validated our protocol
on two cases of HCC and one low-grade dysplastic nodule, one of the earlier
stages of liver carcinogenesis. Now, we want to enlarge our analyses on a
bigger cohort to compare the proteome of the different stages of liver
carcinogenesis. We will use the proteomic data to generate proteomic signatures
of each stage of liver carcinogenesis and validate the signatures generated.
Finally we will propose a new tool for tumor characterization and biomarkers
quantification that can be applicable in clinic.


Cette présentation a été donnée dans le cadre du BRIO SIRIC
scientific day 3 organisé annuellement par le SIRIC BRIO et qui a pour but de
réunir tous les acteurs du SIRIC BRIO et plus largement de la cancérologie à
Bordeaux.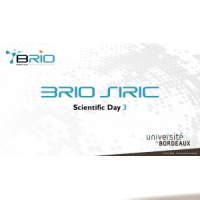 Life of a sample
Jean-Philippe MERLIO
24min50
Clinical
and biological samples : opportunities and challenges for translational
research

 
The first purpose of this talk is to provide ton
non clinical researchers some main technical, ethical and reglementary issues
for their access to biological samples and especially tumoral tissues which are
stored  in pathology departments or tumor
banks.  The second one is to explain to
scientists that their project will not be successful if the sample collection
is not associated with relevant clinical and biopathological annotations

Finally, financial and ethical problems will be
discussed as cancer biobanks funding becomes problematic and there is also an
urgent need to refine their policy considering the most frequent tumor subtypes
which may be available in several biobanks with redundancy and the access of
researchers to routine diagnostic samples or rare tumor subtypes which are not
primarily stored for research but that can be qualified for research by an
Ethical Committee.

Samples collected in daily practice are of
diverse origins and subtypes:  fresh
tissues, cell suspension, fixed biopsies, surgical specimens. All of them may
be altered by adverse preanalytical factors such as cold ischemia, delayed
fixation or freezing times which are not always known parameters. Therefore,
research collection can be set up with knowledge of these parameters and
alternative procedures such as RNA later prior to freezing. Accreditation of
pathology department will also make possible to limit preanalytical artefacts
which are critical according to the tissue subtype and technique used for
analysis with robust and more sensitive ones.

The research collection needs to be associated
with basic clinical and pathological parameters but all of them are only
available when a clinical database with evolutive features is designed and
maintained. Despite the efforts of these clinical databases, the life of the
sample needs to be managed independently at the biopathology level. In fact
there are two different situations:  one
is when the cancer biobank and the biopathology department directly involved in
the research project. Another seen at the Bordeaux University Hospital is when
more than 10 research collection are setup in the context of regional, national
or international project with centralized management and funding of the
clinical database as well as of the scientific advisory board for access to the
samples.  Despite the presence of such
clinical database, the scientific project cannot be conducted without a
specific reanalysis of biopathological data owing to the diversity of tumour
histological and genetic subtypes, especially when changes in the
classification of the tumor subtypes (lung, liver, lymphoma for example) have
occurred. Both clinicians and scientists are not aware that their project will
not only need funding for access to tissue but that they will need to involve
an expert biopathologist in their project.

Whatever the tumor bank subtype, the process
for storing, management and sample access are regulated through certified
procedure NFS 96900 in France. Finally, the access to sample is restricted by
ethical and regulatory procedures for which the tumor bank is not in charge but
has together with the researcher to cope with.


Cette présentation a été donnée dans le cadre du BRIO SIRIC
scientific day 3 organisé annuellement par le SIRIC BRIO et qui a pour but de
réunir tous les acteurs du SIRIC BRIO et plus largement de la cancérologie à
Bordeaux.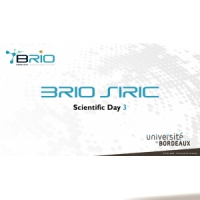 Modelling prognostic capabilities of tumor size : application to colorectal cancer
Virginie RONDEAU
20min21
Epidemiology
and public health


In oncology, the international WHO and RECIST
criteria have allowed the standardization of tumor response evaluation in order
to identify the time of disease progression. These semi-quantitative
measurements are often used as endpoints in phase II and phase III trials to
study the efficacy of new therapies. However, through categorization of the
continuous tumor size, information can be lost and they can be challenged by
recently developed methods of modeling biomarkers in a longitudinal way. Thus,
it is of interest to compare the predictive ability of cancer progressions
based on categorical criteria and quantitative measures of tumor size
(left-censored due to detection limit problems) and/or appearance of new lesions
on overall survival. We propose a joint model for a simultaneous analysis of
three types of data: longitudinal marker, recurrent events and a terminal
event. A simulation study is performed and shows that the proposed trivariate
model is appropriate for the practical use. We suggest statistical tools that
evaluate predictive accuracy for joint models to compare our model to models
based on categorical criteria and their components. We apply the model to a
randomized phase III clinical trial of metastatic colorectal cancer, conducted
by the Fédération Francophone de Cancérologie Digestive (FFCD 2000-05 trial),
which assigned 410 patients to two therapeutic strategies with multiple
successive chemotherapy regimens.


Cette présentation a été donnée dans le cadre du BRIO SIRIC
scientific day 3 organisé annuellement par le SIRIC BRIO et qui a pour but de
réunir tous les acteurs du SIRIC BRIO et plus largement de la cancérologie à
Bordeaux.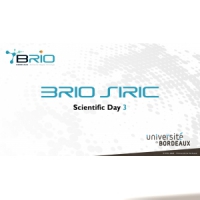 Social inequalities impacts of care management and survival in patients with non-hodgkin lymphomas
Sandra LE GUYADER-PEYROU
13min53
Epidemiology
and public health

 
The principal aim of this
thesis will describe the care pathway of diffuse large B cell lymphoma (DBCL)
and follicular lymphoma (FL) in the general population and identify the factors
predicting the place of care and survival in a population based cohort of non
Hodgkin lymphoma (NHL) patients from three counties in France between 2002 and
2008. The specific aims will 1/ identify the socioeconomic
and medical factors predicting the place of care (teaching vs. non teaching
hospitals) and 5 years survival, 2/ identify the socioeconomic and
medical factors predicting longest delays of care and to study the
influence of longest delays on survival 3/ analyse all these
factors on a frailty population defined by a high age and/or other criteria of
vulnerability (such as comorbidity).


To answer these questions, the followings methods are proposed: 
 

1/ case registration of all identified NHL (DLBCL and FL) by three
haematological malignancies registries in France (Côte d'Or, Basse Normandie
and Gironde). 1977 patients are included. Individual medical data (e.g. patient
characteristics, management and treatment) from NHL incident cases diagnosed
between 2002 and 2008 was stored in a standardized database. 2/ we collected
and geocoded the patient's place of residence at diagnosis. Each patient was
affected to an IRIS (smallest area allowing for aggregate statistics) using a
geographical information system. 3/ we applied successively Townsend
deprivation index and then the new French deprivation index available in 2012
in univariate and multivariate analyses. 4/ we used adjusted multilevel
logistic regression models to take into account the existence of aggregate
data. The overall survival probability at 1, 3 and 5 years were estimated by
the Kaplan Meier method and then Cox regression model for multivariate
analysis. Net survival (Pohar Perme) and Relative survival (Esteve's method)
was also being performed. Finally, to palliate to a non-negligible proportion of missing values on important prognostic
factors, we used Multiple imputation by Chained Equation (MICE) method. 

We will present results of analysis of the
influence of socio-geographical, medical determinants and treatment provider on
relative survival of DBCL patients.


Cette présentation a été donnée dans le cadre du BRIO SIRIC
scientific day 3 organisé annuellement par le SIRIC BRIO et qui a pour but de
réunir tous les acteurs du SIRIC BRIO et plus largement de la cancérologie à
Bordeaux.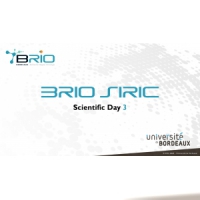 How studying hematological malignancies subtypes may inform epidemiologic and clinical research
Alain MONNEREAU
17min30
Epidemiology
and public health

 
The aim
of the talk entitled "How studying hematological malignancies (HM)
subtypes may inform epidemiologic and clinical research" is to bring to
the audience several examples from recent epidemiological studies showing the
benefit of studying HM subtypes : 1) a population-based incidence study in
France on HM identified trends in incidence for specific subtypes that help to
generate etiological hypothesis, 2) An International initiative on lymphoma
subtypes pooled 20 case-control studies to distangle etiological factors, 3)
population-based survival study in France identifies progress in survival for
specific subtypes. Overall, this approach led to recent progresses in
understanding HM.


Cette présentation a été donnée dans le cadre du BRIO SIRIC
scientific day 3 organisé annuellement par le SIRIC BRIO et qui a pour but de
réunir tous les acteurs du SIRIC BRIO et plus largement de la cancérologie à
Bordeaux.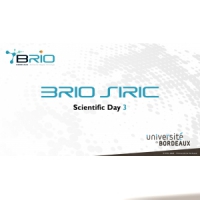 Sarcoma Database: a unique tool for research on mesenchymal tumors
Jean-Michel COINDRE
17min11
Clinical biology session


The main sarcoma databases are the Conticabase
(https://conticabase.sarcomabcb.org) and the ConticaGist
(https://conticagist.sarcomabcb.org) with 18000 patients and which collect data
describing patient, primary tumor, histology, molecular biology, treatment and
follow-up as well as the material stored (paraffin blocks, frozen tissue,
peripheral blood and cell lines). With the organization of national networks,
data on practices regarding histological diagnosis and clinical management are
collected in specific databases (https://rreps.sarcomabcb.org and
https://netsarc.sarcomabcb.org). Currently, this database contents data from
45000 patients and will be soon merge with the Conticabase and ConticaGist.
These databases allow studies on medical practices, medico-economical studies,
description of large cohorts, pathological and molecular studies, such as
histological and molecular grading, and basic research studies such as the full
genome sequencing in leiomyosarcomas in the context of the ICGC programme. We
now have the project to integrate heterogeneous data, such as genomic,
expression profiling and NGS data with the phenotypic data of the sarcomaBCB in
the open source platforms I2B2 and Transmart in order to make available to the
clinicians a tool for the best selection of targeted treatment for homogeneous
groups of patients and to the researchers a tool for their research projects.

Cette présentation a été donnée dans le cadre du BRIO SIRIC
scientific day 3 organisé annuellement par le SIRIC BRIO et qui a pour but de
réunir tous les acteurs du SIRIC BRIO et plus largement de la cancérologie à
Bordeaux.